* Cameras open up inside of the office of the CAO, Daria Wilde. WE see the backs of Colt Anderson and Logan Acid's back as they both stand in front of  Daria Wilde's deck. She is sitting behind her desk giving the two men a scolding..... A knock on the halts the scolding and the door opens revealing Hollywood.... Hollywood enters..... *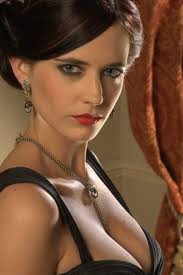 Daria Wilde: " Gentlemen.... I expect you all on your best behavior..... "
* Acid and Anderson both nod to each other and then steps a side to flank the desk. In doing so it is revealed that both men has black eyes... Anderson's left eye and Acid's right eye was blacked.... Hollywood walks over to one of two chairs in front of her desk and takes a seat...... *
Daria Wilde: " Thank you for joining us Hollywood.... It seems that our paths have accidentally crossed paths...... You see, it seems that you and I was on different phone calls at the same time.... It seems that one soon to be ex-IUWF employee tried to make a name for them self by first video taping us on our different calls. And then telling the whole world that we were talking to each other about you joining the fed..... Both was way untrue...... It not only angry myself but my very special super star who I was hours form bringing to IUWF backed out, leaving me high and dry..... So that leads me to you Hollywood.... "
( my pic)
Hollywood: " Hold on pretty little lady....Although you are how I love my women..... Pretty and powerful.... Hollywood is back in wrestling for one person and one person only...... And that's Hollywood!!!.... Not the fans... Not for revenge......."
* Hollywood glances at Colt and Logan, before he finishes... *
Hollywood: " And even though you're pretty.... Not for you!! Its all about me...Hollywood and my money.... "
Daria Wilde: " Is that your only concern?? Money?? Tell your people to contact my people and we'll talk..... Ok that's done... Money is no price when it comes to this war..... When I crush her!!!! When I..... "
* Another knock on the door rang out.... *
Daria Wilde: " Come in! "
* LRT Bulldog walks in and take the other seat...*
Daria Wilde: " glad to see to Mr. Bulldog....That was a joke if you missed it..... SO YOU COST ME BIG TIME WITH YOUR LITTLE STUNT!!!... YOUR STUNT PUT ALL OF MY HARD WORKED PLANS OVER FIRE!!!!..... Just so that you could make a name for yourself...... Well here is you chance..... "
* Daria Wilde reaches into her desk drawer and pulls out two envelopes and lay them on the desk in front Bulldog..... *
Daria Wilde: Pick one..... But first you should know, that inside one is a letter of termination.... So one you'll probable like and the other you don't want at all. "
* Bulldog picks one and Daria Wilde quickly opens the other one and pulls out a piece of paper reading.....
                          YOU'RE FIRED!!!!!
Bulldog smiles then opens his envelope and pulls out his paper reading......
                     GET HIM HOLLYWOOD!!!!
hollywood Lifts Bulldog on his shoulders in a death valley driver
oh no where did that brick wall come from???? Hollywood slams his Bulldog through the brick wall and through the office door executing a fantastic  Breaking into Show Business..... Bulldog now lay on the floor in the hallway outside the CAO'S office.... *
Daria Wilde: " And YOU'RE FIRED!!!!! "
* Camera fades to black. *